Company name: Taikoku Distillery Co., Ltd.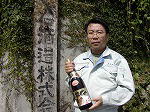 Founded: 1952
Address: 90 Tairagawa, Uruma City
TEL: 098-973-3211
FAX: 098-974-1857
Please contact Mr. Terukina of Okinawa Agent at trd@okiagent.jp for English inquiries.

Japan's southernmost refined sake maker has made full use of its brewing techniques to reflect the benefits of the A and B classes of shochu in the taste of awamori.
This distillery, located in the central area of the Okinawan main island, specializes in the awamori brand Hantabaru. It is also Japan's southernmost sake brewery. Because refined sake calls for cold temperatures, the tradition of sake-making did not develop in the southern island of Okinawa. Instead, it nurtured its local distilled liquor called awamori. But the brewery founder, Shigeshi Yasuda, who studied agricultural chemistry at the present Iwate University, decided to challenge the limits of brewing technology in Okinawa.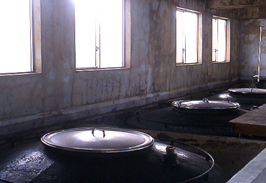 Since the brewery was founded in 1952, Mr. Yasuda has acquired licenses to manufacture A Class shochu, awamori, whiskey, liqueurs and refined sake. In making refined sake, he joined hands with the Reimei Brewery in Nagasaki to create its rich, dry sake, Reimei. The skills nurtured through producing different kinds of alcoholic beverages were put to use to make traditional awamori distilled liquor. Hantabaru is a blend of B Class awamori shochu with A Class shochu and matured to produce awamori that does not have the typically strong smell associated with awamori. The easy-to-drink texture and rich sweetness were made possible through these procedures. The brand is also said to be a healthy drink that does not induce hangovers. This was achieved by removing all impurities.
The brand takes its name from the local place in Gushikawa City* which is the brewery's domicile. 'Hantabaru' is the title of a local folksong. The awamori was named in memory of the old days, when simplicity dominated and the people were rich in spirit. The brewery has also engaged in efforts to preserve the natural environment. The present owner, Yasuharu Yasuda, says that recycling is a natural effort. The brewery reuses bottles after thorough washing and still uses tanks and machinery that were in use before the Okinawa reversion in 1972. One step into the brewery takes us straight back to the old days; it's unique in its blend of traditions and innovations.

Taikokushuzo Catalogue
Matured Awamori Shochu "Hantabaru"

25 % (3 yrs)
Awamori, Japan's ol dest distilled liquor, uses hard Thai rice an d black-kojimold, which produces c itric acid in mass quantity, as main ingre dients.Since ol den days it was said to have medicinal benefits, supporting Okinawans' heal th and contributing to their world-renowne d longevity.
Awamori Shochu "Han tabaru" is blended Awamori produced through single distillation method with ingredients of Thai rice, with Shochu li quor distilled with syrup and corn more than several times by specific blend technolog y, that made it possible milder and richer in taste and aroma. It's matured 3 yrs.
It can be enj oyed in a variety of ways, includ ing on the rocks, st raight, diluted with water or as cocktai ls with lemon, l ime or pineapple.
Click the picture for the specification.


| | | | |
| --- | --- | --- | --- |
| Unit | Qty/ carton | Unit Price | Carton M3(mm)/kg |
| 720ml | 12 | JPY920 | 390*290*300/15.5 |
| 1800ml | 6 | JPY1860 | |
Honjozo-shu Japanese sake "Reimei" 15.5%




"Reimei " is the firs t Japanese refine d sake brewed in sub-tropical island of Okinawa. Because s ake making ca lls for cold temperatures in the process The brewery developed the technology to create its rich, dry sake, Reimei.
Quality Grade: Honjozo-shu/ Nihonshu -do: 7.1/ Acidity: 1.6/ alcohol content: 15.5%/ Sake rice: Hinohikar i/ Seima ibuai: 70%/ yeas t: #7/ tast ing note: D ry but an under lying richness. B rewery Name: Taikoku shuzo/ Toji (Master brewery):Taiji Yasuda/
Click the top picture for the specification.


Unit
Qty/ carton
Unit Price
MOQ
720ml
12 bottles
JPY680
40 cartons
JPY650
400 cartons
1800ml
6 bottles
JPY1440
40 carton
JPY1,380
400 cartons
1800ml
6 kegs
JPY2,810
40 cartons
JPY2,750
400 cartons
Basic Awamori ügHantabruüh 30%

Basic Awamori "Hantabaru" is blended liquor with Awamori and Shochu. If it matures, it will become Matured Awamori Hantabaru. The ol der it gets, the milder the taste becomes with better aroma.
Click the picture for the specification.


| | | | |
| --- | --- | --- | --- |
| Unit | Qty/ carton | Unit Price | Carton M3(mm)/kg |
| 720ml | 12 | JPY630 | 390*290*300/15.5 |
| 1800ml | 6 | JPY1260 | |
Shequasar Liqueur 500ml/bottle

12%
"Shequasa" is produced on the base of white liquor, adding Okinawan citrus lemon called shequasar. White liquor is pure alcohol beverage distilled several times with the ingredients of syrup and corn. Shequasar is now in much demand for so many additives to juice, seasoning, flavor, cakes, vinegar and more. It's been made up so soft as you can enjoy it straight or on the rocks, well-harmonized between fragrance and sourness.
Click the picture for the specification.


| | | | |
| --- | --- | --- | --- |
| Unit | Qty/ carton | Unit Price | Carton M3(mm)/kg |
| 500ml | 12 bottles | JPY730 | 390*290*300/15.5 |
Matured "Hantabaru" 35% (10 yrs) with Ryukyu Glasswareü@set 350ml




Ryukyu glassware is one of the representative art crafts in Japan, featur ing in its vivid colors and designs. Matured Awamori Shochu Hantabaru (10 yrs) is potted in the specially ordered hand-made Ryukyu glassware bottle with its glass cup . Hantabaru features in heal thy alcohol liquor without any substance of fusel oil and methanol that cause us a hangover.





Unit
Qty/ carton
Unit Price
Carton M3(mm)/kg
Blue set
12 sets
JPY2930
Light bule set
Green set
Highway One 20% 720ml





Awamori Shochu "Highway One" is blended Awamori liquor produced through single distillation method with ingredient of Thai rice, with Shochu liquor distilled with syrup and corn more than several times by specific blend technology, that made it possible milder and richer in taste. It can be enjoyed in a variety of ways, including on the rocks, straight, diluted with water or as cocktails with lemon, lime or pineapple.


Click the picture for the specification.


| | | | |
| --- | --- | --- | --- |
| Unit | Qty/ carton | Unit Price | Carton M3(mm)/kg |
| 720ml | 12 bottles | JPY417 | 380*290*300/15.5 |
Junmai-Ginjo "Reimei" 15.5%

720ml/bottle
You can enjoy top premium sake with its flavor and aroma.
Dry overall, but with a sweet element creeping out of the background. Good richness and overall balance in a slightly dry profile Dont' limit your pairing to Japanese or Asian food. There is truly a vast array of possibilities for sake. Give your own local cuisine a chance.
Nihonshu-do: 0 /Alcohol :15.5% /Seimaibuai :54%
Acidity :1.3 /Amino Acidity: 2.0 /Rice: Reiho (Kumamoto)
Yeast Kumamoto shubo (Yeast)


| | | | |
| --- | --- | --- | --- |
| Unit | Qty/ carton | Unit Price | Carton M3(mm)/kg |
| 720ml | 12 | JPY1400 | 380*290*300/15.5 |
| 1800ml | 6 | JPY | |
Geisha Sake set with four items of ügReimeiüh & a jar and two cups

This smooth, white-colored, ceramic sake set features a motif of beautifully hand-painted portraits of Japanese geisha in their multi-colored kimonos, traditional Japanese outer garments. The set comes with four items of a jug, two cups and Refined Japan's sake Honjozo-shu "Reimei". Perfect for souvenir and gift ! made in Japan.
Jug Dimension (W 65mmX H 132mm)
Cup Dimension (D 43mmX H 62mm)
Refined Japan's sake Honjozo-shu "Reimei" in 720ml bottle


| | | | |
| --- | --- | --- | --- |
| Unit | Qty/ carton | Unit Price | Carton M3(mm)/kg |
| Geisha sake set | 4 | JPY2700 | |